188/4 Electronic Commerce Group
E-Business and E-Commerce include, besides other influencing domains, rapid changes to economic and social processes. For this reason, the E-Commerce group pursues taking an encompassing view at such processes reaching from analyzing enterprises and their respective processes to evaluating the entire market, as well as is active in creating ideas and solutions for meeting the demands of the respective stakeholders.
Overall, the E-Commerce group performs research and creates solutions in the Business-2-Business (B2B) and Business-2-Consumer (B2C) domains. In the B2B domain, the group focuses on (i) business (process) modeling and definition and consequently the specification and implementation of e-business systems while considering and contributing to semantic web research and service-oriented architectures, (ii) ontology engineering and information integration, (iii) "Web Science" focusing on network analysis and content as well as text mining. In the B2C domain, the E-Commerce group performs research targeting (i) visual interaction paradigms as well as (ii) mobile applications. Thereby, our group focuses especially on the development and application of our research in the area of e-tourism and its mobile applications.
Latest News
Contact person : pobiedina
Together with the EC Group, the Ludwig Boltzmann Institute for History and Society is organizing an international summer school on digital humanities. Main focus of this summer school are computational, statistical and mathematical methods that are applied in context of digital humanities including social network analysis, text and opinion mining, and visual analytics. These methods will be introduced by international renowned scientists from universities all over the world (i.e., Australia, Austria, Belgium, Germany and the US). The summer school, which is funded by the WWTF, is targeting PhD students from humanities and the social sciences and is going to take place in Vienna at the beginning of July. Further details to be announced soon!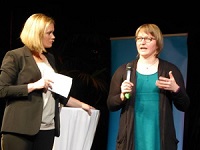 On the picture EC group member Julia Neidhardt answering questions by Corinna Milborn about the summer school (WWTF event "Public Spaces in Transition" at the Schauspielhaus Wien on February 16, 2015).
Contact person : pobiedina
The Electronic Commerce Group organizes the 9th ACM Conference on Recommender Systems (RecSys2015) which will be held from September 16-20, 2015 in Vienna, Austria. RecSys is the premier international forum for the presentation of new research results, systems and techniques in the broad field of recommender systems.
For this conference, we invite you to apply for being a Student Volunteer @ RecSys2015. We would also be happy if you encourage your colleges to apply! For further information, please see the document Volunteers @ RecSys2015.